Marcello Maggi
PRESIDENT
Marcello Maggi started his career at CRN in 1986 and, after few years, he became Sales & Marketing Manager. In his position​, he helped to facilitate the merger of the shipyard with Ferretti Group, as well as its successful IPO later on.
He was one of the founders of ISA Yachts in 2001, which became as one of the world's top players in the yachting industry, and reached an international reputation with dozens of world renowned yachts being built. He decided to leave the Company and sell his shares in 2013, and he founded MMYB (Marcello Maggi Yachting Boutique), a Monaco-based consultancy assisting clients in every aspect related to yachting.
In 2019 he acquired 100% share capital of WIDER with the vision of expanding the Company and the focus of building electric and hybrid yachts and passenger units.
As of today, Marcello is one of the Founders, Shareholder and President of W-Fin Sarl, the holding Company that owns 100% of Wider equity.
Fabio Fraternale
CEO

He served as CEO of Pershing starting in 1996.
He helped to facilitate the merger with the Ferretti Group and the subsequent successful IPO.
He led the acquisition of Itama Yachts (well known Italian yachting brand) in 2005.
The company grew up from € 15 m to € 200 m in revenues under his leadership in 12 years.
Luciano Cardini
BOARD MEMBER
HEAD OF WIDER ENGINEERING

Worked in the engineering department in a yachting refit company where he gained a lot of experience and skills.
For Wider, he led the important project of the "serial hybrid technology" to its completion.
He managed the whole project, including key internal and external stakeholders as well as strategic suppliers.
Maurizio Magri
CHIEF COMMERCIAL OFFICER

He started his career in the yacht industry and held many top management positions.
He has been Associated with globally renowned shipyards specialized in aluminium/ steel and GRP construction of S/Y from 25m to 65m: CBI NAVI, Admiral, Tecnomar and Mangusta.
He has got extensive experience in building yachts.

Corrado Baldazzi
CHIEF COMMERCIAL OFFICER – GRP DIVISION

He started his career as a luxury and real estate consultant
He was appointed in 2010 by Ferretti Group as Sales Manager for Pershing and Itama brands
He joined Groupe Beneteau in 2017 as Sales director for Beneteau brand in Italy, Middle – East and Central Europe
He has got important skills and experience on dealer network management and marine business
Michele Lubrano Lobianco
HEAD OF WIDER CENTRO STILE

He served as naval engineer at Rodriquez Yachts.
He worked as project manager at Ferretti Group.
He moved to Peter Lowe Design in Sydney and later to Francesco Paszkowski Design in Florence where he acquired deep skills in yacht design.
He worked in Dominator Yachts and now is the Head of Wider Centro Stile.

Maurizio Zappelli
CHIEF OPERATING OFFICER

He always worked in the nautical sector mainly as Chief Operating Officer.
Thanks to his deep knowledge of the business, he is able to manage also other activities in technical, sales and after sales departments.

Roberto Zappelli
HEAD OF PROJECT MANAGEMENT

He gained more than 35 years of experience in the business, covering different roles for the most important international shipyard as CEO, Director, Technical Director, Head of Projects Managers, sales Manager Surveyor.
He engineered, built and delivered more than 200 yachts of every size.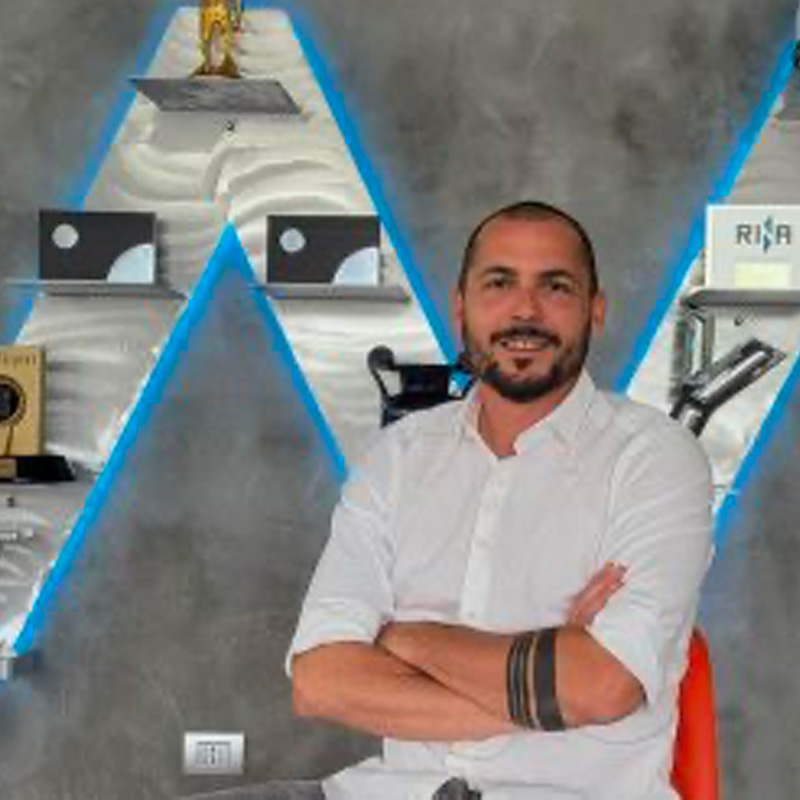 Enrico Sora
PRODUCTION MANAGER – GRP DIVISION

He started his carrier in Wally Yacht as Quality Manager and PM.
Successively, he moved to Team Italia and worked for more than 200 projects from 24 to 105 meters, including some of the most iconic yacht and superyacht models.

Serena Rossi
ACCOUNTING MANAGER

She spent 26 years in Ferretti Group in the accounting department gaining a deep experience with tax and duties, salaries and balance sheets.
She joined Wider at the foundation of the brand and since 2010 is the Accounting Manager of the shipyard.